Book Now: The Best Full-Service Event Catering in Dallas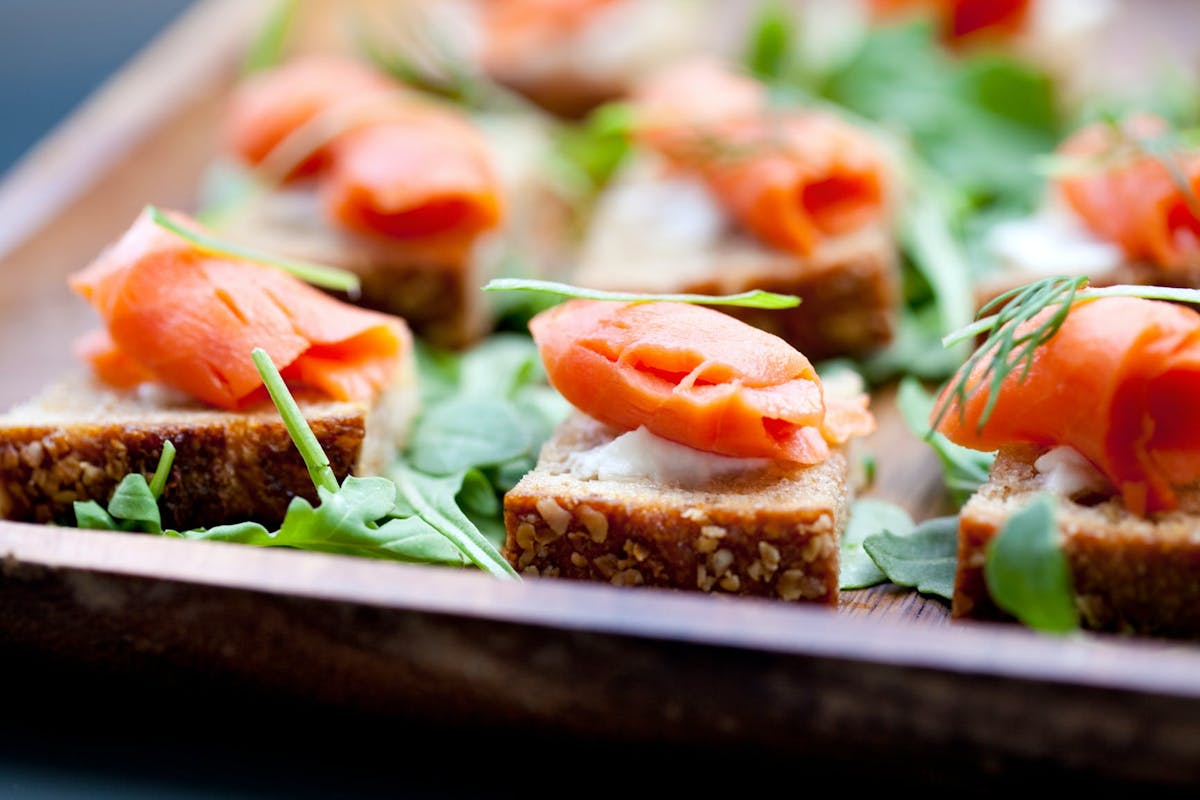 Event Catering in Dallas
Savory Catering serves as the best catering service in Dallas for over a decade. Look no further for the small event catering for the big game. We understand the importance of good game day food. After all, delicious food such as party platters full of finger foods and yummy appetizers are the only reason some people participate in watching, and we can't blame them. At Savory Catering, we specialize in event catering in Dallas. From small event catering like tailgate parties to larger-scale event catering like weddings and corporate events - whether your group is big or small we can surely feed them all!
Game Day Catering
Let's be honest, deciding on a game-day menu that offers something for everyone is no easy task. When creating the perfect game day menu, it's best to consider all guests and their dietary restrictions and allergens. We can work together to create a menu that offers a wide variety of favorite foods including party platters, appetizers, and more. Don't waste time searching, our team at Savory Catering has a long-standing reputation as the best full-service catering in Dallas.
Tailgate Party Catering
It's no secret that tailgating at the AT&T Stadium is a rite of passage for living in Dallas, and so is loving the Dallas Cowboys! The art of tailgating is all about good food and cold drinks. We specialize in event catering services, and sure know how to host a tailgate party. Check out the Cowboy's game day schedule and appetizer menu options below and let us help you customize the best tailgate party menu.
Appetizer Menu Options
Our appetizer menu is perfect for parties that require hors d'oeuvres & appetizers only or accompaniments to a buffet-style event. Most of the menu items can be passed around and shared with family and friends. We do have a 20 piece minimum on our appetizers, but trust us they are so tasty that won't be near enough! If you would like our team to brainstorm a special game day menu or you have something particular in mind - don't hesitate to ask as we are always happy to accommodate!
EGGPLANT CRISPS
With mini mozzarella & burst tomatoes
PULLED PORK
With pickled onions & crostini
BACON-WRAPPED DATES
Stuffed with feta cheese & citrus puree
PARMESAN POTATO ROUNDS
Served with red bell coulis sauce
MANGO CRAB SALAD CANAPÉS
SAFFRON RISOTTO ROUNDS
CRAB & CHIVE SALAD STUFFED PEPPADEWS
SEARED DUCK & EDAMAME STUFFED MUSHROOMS
Served with savory blackberry reduction sauce
MEDITERRANEAN STUFFED TOMATOES
BOURSIN STUFFED ROASTED RED POTATOES
CURRIED CHICKEN CANAPÉS
Served on fully ripened fried plantains
PROSCIUTTO, CREAMY GOAT CHEESE & DRIED FIG TARTS
Served with fresh microgreens on puff pastry
ROASTED CHICKEN TARTLETS
Served in mini shells with a lemon caper vinaigrette
BLUE CHEESE, CARAMELIZED ONION SQUARES
Served on puff pastries & balsamic reduction
CHIPOTLE RABBIT RAGU CANAPÉS
BLOOD ORANGE & SHRIMP CEVICHE
*Seasonal / *Optional shot glass display
PROSCIUTTO WRAPPED CAESAR SALAD
JUNIPER SPICED VENISON CANAPÉS
With orange marmalade & microgreens
BEEF TENDERLOIN CARPACCIO CANAPÉS
Served with lemon caper vinaigrette & micro herbs
CORIANDER BBQ QUAIL LEGS
PETITE SHRIMP CAKES
Served with spicy pomegranate sauce
TUNA TARTAR & PASTRY SHELL CANAPÉS
Served with chopped red bell peppers, red onions, mango vinaigrette & chives
SPICE CRUSTED TUNA
Served with crispy snow pea & black pepper mignonette on pumpernickel round
SMOKED SALMON & BOURSIN CHEESE TARTLETS
Served with a dill coriander cream
PROSCIUTTO & FENNEL BRUSCHETTA CANAPÉS
Served with roasted fennel, lemon vinaigrette, cracked pepper & fennel fronds
ROAST BEEF SANDWICH SETUP
With horseradish sauce, grain mustard & silver dollar rolls
PULLED PORK SLIDERS
Topped with spicy napa slaw
WILD MUSHROOM & ROMA TOMATO BRUSCHETTA
Served with crostini
Book Now: The Best Full-Service Event Catering in Dallas
Whether you're planning the next big game day party or a fun tailgate party, Savory Catering would love to provide catering services at your next event. Don't be shy, give us a call at 214-301-3124 to make an appointment with one of our Catering Managers, or fill out the catering form here with as much detail as possible. Let our team at Savory Catering help you bring your game day party to life!