Catering For Thanksgiving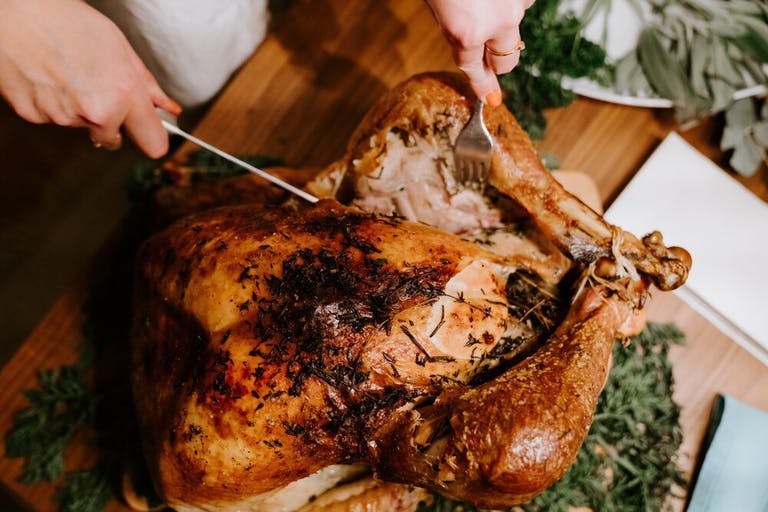 Stress-Free and Mess-Free Catering For Thanksgiving 
When we sit down and list our greatest blessings and reasons to be thankful this season, friends and family are usually ranked pretty high on that list. So why do we spend our entire Thanksgiving holidays in the kitchen cooking and cleaning? After all, the reason for the season is gratitude and quality time with loved ones. Hiring the best catering company in Dallas to handle the Thanksgiving turkey this year could be the difference between a stressful holiday and a relaxing one.
Imagine a stress-free Thanksgiving where you aren't responsible for planning a Thanksgiving dinner menu, coordinating cooking times on the oven and stove, or worrying something will burn, taste dry, or just not be quite right. Imagine a mess-free Thanksgiving where you aren't washing a million casserole dishes, cleaning the stove just to dirty it up again a few minutes later, peeling potatoes or chopping onions. At Savory Catering, we can make these dreams a reality. Order Thanksgiving to-go and one of our Dallas chefs will prepare a Thanksgiving turkey meal for your family to enjoy on the big day.
Thanksgiving Menu Options
Order one of our Chef-prepared meals for your Thanksgiving feast. All of our meals are made with fresh ingredients of the highest quality and serve 6 people. Thanksgiving meals are fully cooked in advance but require reheating before serving.
Thanksgiving Family Meal Protein Options Include:
1. Smoked Whole Turkey
2. Smoked Turkey Breast
All meals include brown gravy, garlic mashed potatoes, green bean casserole, andouille sausage dressing (stuffing), cranberry sauce, rolls, and of course a 10" pumpkin pie.
If your crew appreciates variety, add on an Orange Glazed Ham to complete the feast!
Thanksgiving Traditions
At Savory Catering, we understand holiday traditions are the heart of a family. Annual traditions give us all something to look forward to and be excited about. A few of our favorite Thanksgiving traditions are mashed potatoes, cranberry sauce, and a homemade pumpkin pie. Popular foodie traditions aside, there are quite a few Thanksgiving traditions that are fun and different to try.
Teach Gratitude
Take the time to teach gratitude this holiday season. Ask the table to share 3 things they are grateful for. This icebreaker can be a great way to connect and start meaningful conversations with loved ones.
Be Active
Go on a fall walk or hike after the big Thanksgiving feast. Being active with friends and family is a great way to bond and appreciate nature.
Enjoy Rest
Indulge in rest and relaxation by watching the Macy's Day Parade or the annual Thanksgiving Dog Show.
Get Crafty
Put together some Turkey Day Crafts for the kids or set up a festive photoshoot to capture family memories.
You won't regret ordering from Savory Catering for Thanksgiving dinner this year. Don't waste hours online looking for the best Thanksgiving catering. Our family meals are stress and mess-free, so you can have time to focus on what matters and spend more time with family and friends. Reserve your Thanksgiving dinner to go today!