The Best Event Venue In Dallas With Catering Included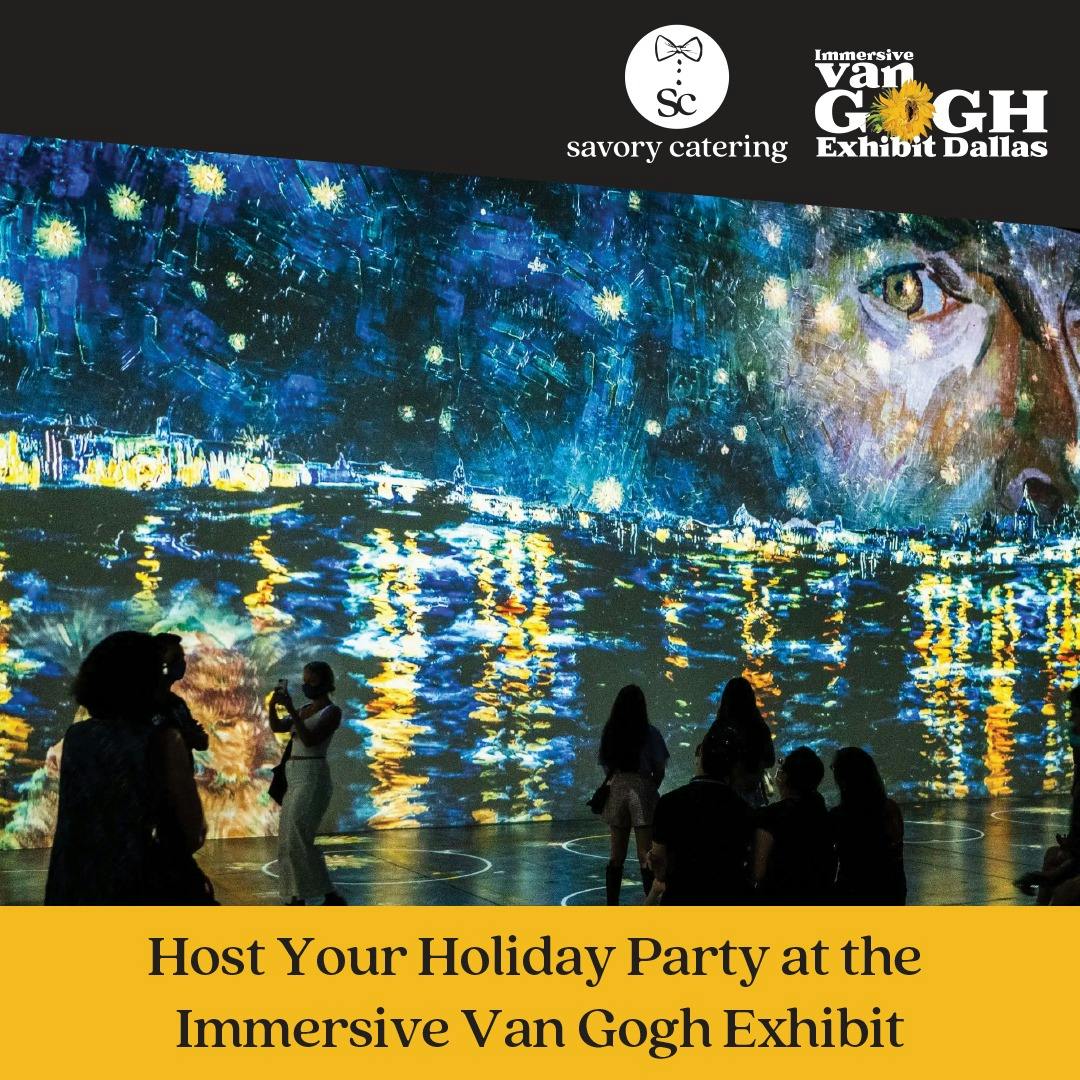 Savory Catering has partnered with Van Gogh Dallas to help you host an unforgettable holiday party this year at the best event venue in Dallas! A Savory Catering and Van Gogh Dallas partnership means we are your one-stop shop for a unique event venue and the best event catering in Dallas too. From being immersed in Van Gogh's legacy, to our rooftop patio with downtown Dallas views, and to our incredible menu that's full of locally sourced and high-quality food, we can work together to help you throw an unforgettable holiday party this season.
The Event Venue
Immersive Van Gogh is without a doubt the best event venue in Dallas to host a holiday party. Equipped with a rooftop patio and offers your guest the ability to get lost in 500,000 cubic feet of monumental projections animating Vincent van Gogh's best work. At Immersive Van Gogh exhibit Dallas, you guest can expect to wander through entrancing, moving art that highlights brush strokes, detail, and color of Van Gogh's artistry. The art displayed truly illuminates the mind of the genius himself, Van Gogh. The venue sums up what to expect best, the space is "astonishing in scale and breathtakingly imaginative, you will experience Van Gogh's art in a completely new and unforgettable way". Don't miss your chance to host the party of the year at this unique event venue in Dallas!
The Food
If you're looking for a delicious meal to serve your coworkers, friends, and family this holiday season, look no further than Savory Catering. We specialize in event catering in Dallas and have been helping loyal customers plan incredible holiday parties for decades. Serving food made from fresh, local ingredients is at the forefront of everything we do here at Savory. We offer a wide variety of menus and can work together to customize a menu that fits your holiday budget and style.
The Event Planning
We've covered the amazing space and delicious event catering, so now it's time to plan your event. Planning an event big or small can feel overwhelming if you don't have the right team in place supporting you every step of the way. Our team is pro at executing successful events around Dallas. We can usually manage a wide range of budgets big or small and have several options depending on the day, time, and budget for the event. The best part about renting out the event venue at Van Gosh is that it comes with a rooftop patio that overlooks downtown Dallas. Not only can we offer stellar city views, but don't forget the Van Gogh exhibit is included as well! Skip the ballroom or restaurant rental this year and book the experience of a lifetime for your guests!
Book Your Event Today
It's no secret Savory Catering has grown to be the top choice for events in Dallas. Our team has the ability to take your budget into consideration and suggest event options that will leave your guest speechless this holiday season. By booking with Savory Catering directly we commit to handling all the logistics so you can enjoy the fun part of event planning. Contact us and email us at sales@savory-catering.com to plan the event of a lifetime with the best event catering in Dallas and book the most unique event venue, Immersive Van Gogh.