The Best Wedding Menus for Any Occasion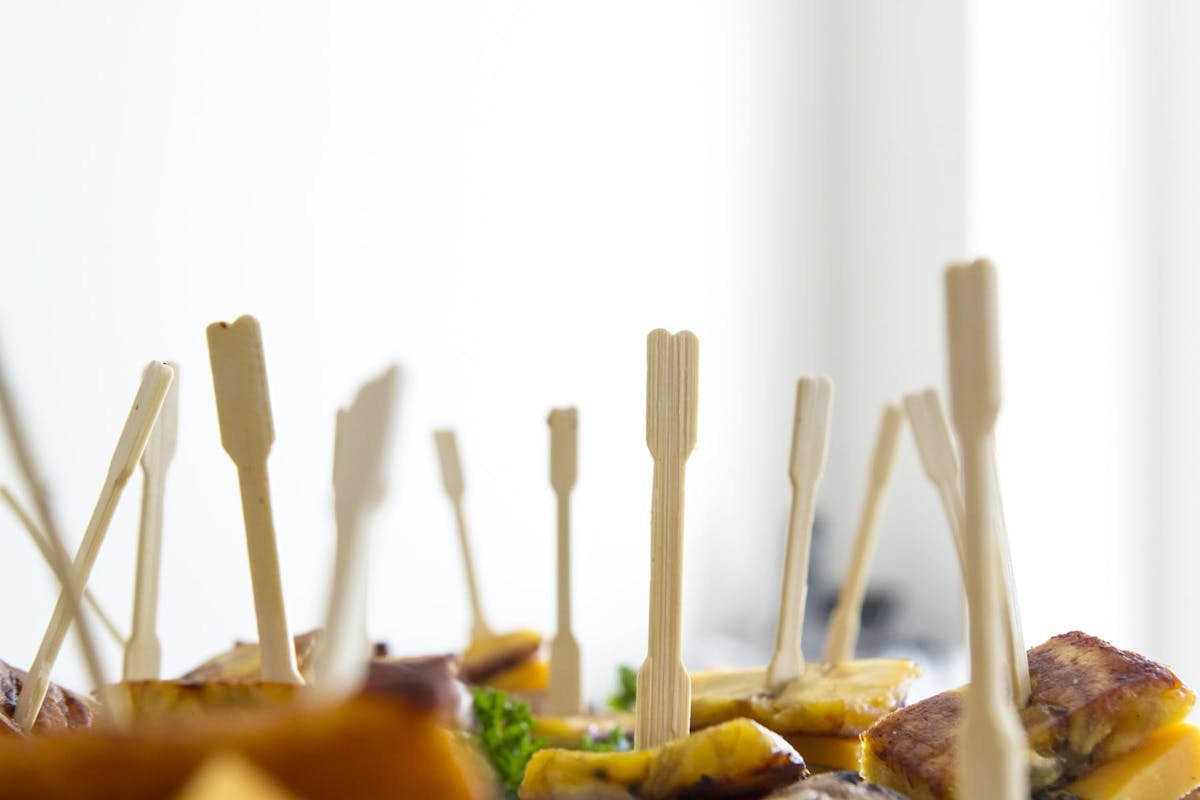 Planning a spring wedding in Dallas means landing on the perfect wedding menu served by the best catering company, finding the freshest florists in town, and the liveliest DJ around to ensure your wedding day is the best day ever. At Savory Catering, we understand that there are an overwhelming amount of catering services in Dallas, not to mention the amount of wedding menu options and styles that are available these days. Our team is here to make sure that deciding on your wedding menu is as simple and elegant as possible for the big day. We offer a wide variety of wedding menu styles, and if one of our styles isn't just right or up to your standards, we can customize the wedding menu of your dreams. We've compiled a list of 4 types of wedding menu styles your guests will enjoy:
Our experience of being in the wedding and event catering space for decades now has taught us one thing, sometimes a themed buffet is the way to go! Themed buffets are a newer trend because maybe the wedding day of your dreams includes specific colors, styles, or vibes, and if that's the case you will need a perfectly themed meal to match it. If our themed buffets don't quite appeal to you or aren't inclusive to all of your guests, we'd be happy to connect and customize a buffet with the exact tastes and attributes that fit your vision. Our catering team of seasoned chefs has customized four different themed buffets to encompass a variety of different palates.
Themed Buffet #1: The Tex-Mex Way
The perfect themed buffet for traditional tex-mex lovers, flavor seekers, fiestas, and more!
Chicken & beef fajitas
Whole wheat tortillas
Sautéed onions & peppers
Charro beans & cilantro rice
Chocolate dusted grilled shrimp skewers
Shaved lettuce, pico de gallo & shredded Oaxaca cheese
Salsa Roja
Guacamole & tortillas
Themed Buffet #2: Go West BBQ
The perfect themed buffet for meat lovers, outdoor spring weddings, local cowboys, and more!
11-hour slow cook brisket
Smokehouse savory chicken
Chipotle potato salad
Molasses & brown sugar baked beans
Slow-roasted sweet & spicy pork ribs
Texas toast
Relish trays & bbq sauce
Themed Buffet #3: The Roman Way
The perfect themed buffet for an elegant spring wedding, hopeless romantic, classic pasta lovers, and more!
Wild mushroom & tomato bruschetta
Antipasto & olive platter
Lobster manicotti in saffron corn cream sauce
Angel hair
Fettuccini, bow tie or penne pasta
Brick oven garlic bread
Classic caesar salad
Savory meat marinara
Alfredo or mushroom marsala sauce
Themed Buffet #4: Asian By Design
The perfect themed buffet for aroma adventurists, sushi enthusiasts, and more!
Sesame & walnut chicken with pineapple sauce
Lemongrass ginger rice pilaf
Stir fry veggies
Beef satay with peanut sauce
Veggie spring rolls
California sushi rolls
Potstickers
It's easy to forget that a wedding is all about the bride and groom and the love that they share. During the season of wedding planning sometimes we get caught up in trying to please others and make sure everyone is happy. Don't be afraid to set the wedding stress and everyone else's opinion of your perfect day aside and plan it your way. At Savory Catering we understand even the smallest details matter and should represent the bride and groom and their relationship, which is why the catering services in Dallas we offer are totally designed with the happy couple in mind. The second style of wedding menu we offer is customizable and can be tailored to be as simple or elegant as desired.
Wedding Dinner Menu Idea #1
This wedding menu option gives you three courses
SALAD OR SOUP
MAIN ENTRÉE
DESSERT
Wedding Dinner Menu Idea #2
This option gives you three courses and a choice of two entrees
SALAD OR SOUP
MAIN ENTRÉE
DESSERT
Wedding Dinner Menu Idea #3
This option gives you a choice of four courses, *please note these courses can be in whatever order you like
APPETIZERS
SALAD OR SOUP
MAIN ENTRÉE
DESSERT
Wedding Dinner Menu Idea #4
This is the grandaddy option; your choice of two at each course except dessert and a choice of family-style appetizers
APPETIZER
Choice of two or family-style
SALAD OR SOUP
MAIN ENTRÉE
DESSERT
Our stations are always a hit on the big day and are by far one of the most fun and exciting wedding menu styles we offer. Your guests will love the chance to make their own dish with the toppings of their choice to their preferences. Make your wedding menu more fun, add one of our eight stations to one of the wedding menu styles listed above, or make a super unique wedding menu and offer several stations your guests can enjoy! Any of our stations can have a chef attend and manage with standard rates applied. Check out our station offerings below and you'll find out why Savory Catering is known to be the best catering company in Dallas.
Station #1: CARVING STATION
Beef tenderloin, prime rib, pork tenderloin, roast beef, leg of lamb, turkey breast or ham, served with silver dollar rolls & accompanying sauces. Sliced to order
Station #2: MASHED SWEET POTATO BAR
Add your own: chopped candied nuts, mini marshmallows, cooked diced cinnamon apples, golden raisins & brown sugar. Served in a martini glass (optional)
Station #3: MACARONI & CHEESE BAR
Add your own: applewood smoked bacon bits, chives, housemade croutons, diced cooked wild mushrooms & sour cream. Served in a martini glass (optional)
Station #4: 'THE ORIGINAL' MINI SILVER BOWL SALAD STATION
Made to order: "the original" sautéed slightly spicy chicken chopped romaine lettuce with balsamic & caesar dressing topped with bacon bits, grapes, orange slices & red bell peppers. Served in a mini silver bowl
Station #5: GRILLED CHEESE STATION
Choose from: fresh white, whole wheat, or rye bread sliced cheddar, Colby jack, or provolone cheese. Add: sliced tomato, prosciutto, or avocado, served with tomato basil soup demitasse
Station #6: QUESADILLA STATION
Choose from: chicken, brisket & portabella mushrooms shredded cheddar, Colby jack & Oaxaca cheese. Add onions, bell peppers & spinach served with pico de gallo & sour cream
Station #7: EGG OMELET STATION
Choose from: bacon, sausage, ham, egg whites, shredded cheddar, Colby jack & Oaxaca cheese, red bell peppers, wild mushrooms, jalapenos, spinach, onions & diced tomatoes served with salsa. Made to order
Station #8: PASTA STATION
Choose from: diced grilled chicken breast & Italian sausage savory marinara sauce, alfredo sauce & pomodoro sauce, broccoli, spinach & portabella mushrooms, angel hair, fettuccini & bow tie pasta served with bread service & garlic butter
It's no secret it's becoming more and more common for the bride and groom to offer a variety of heavy appetizers in place of a meal. It's also been known to be a wedding menu tradition to offer guests a few delicious appetizers before the meal. Either way, there's no right or wrong way to plan a wedding menu, as long as it tastes delicious nobody will complain! Our appetizers are made in-house with the freshest ingredients and are always made to order. Check out a few of our appetizers offerings here:
Prosciutto-wrapped caesar salad
Prosciutto, creamy goat cheese & dried fig tarts - served with fresh micro greens on puff pastry
Wild mushroom & Roma tomato bruschetta, served with crostini
Blue cheese, caramelized onion squares served on puff pastries & balsamic reduction
Roast beef sandwich setup with horseradish sauce, grain mustard & silver dollar rolls
The possibilities are endless when it comes to creating the wedding menu of your dreams. Our catering team of professional chefs and party planners is available to take your vision and bring it to life. Our team has been offering the best catering services in Dallas for decades now. Whether you're picturing serving a themed buffet, dinner your way, all the stations, or heavy on the appetizers on the big day, the Savory Catering team has you covered.
Fill out the form here in as much detail as possible, and one of our reps will be delighted to put together a custom quote for your event. If you'd like to discuss your event in person, give us a call to make an appointment with a catering manager who will be happy to help you bring your wedding, corporate event, or private party to life!
Call us today at 214-301-3124.